Shepherds Pie (Eurasian Style)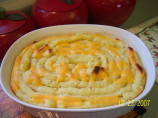 Photo by Malaysian`Chef
Prep Time: 20 mins
Total Time: 30 mins
Servings: 5-6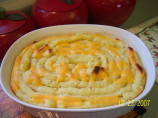 Photo by Malaysian`Chef
About This Recipe
"This is my mom's recipe. It's delicious. A great holiday recipe. She was actually mad at me for posting a famous family recipe. But I think something this good should be enjoyed by everyone. :)"
Ingredients
1 tablespoon cooking oil

1 1/2 lbs minced beef

1 cup big yellow onion, diced

3/4 cup carrot, diced

1 cup green peas ( put in last)

1 beef stock cube

1/2 teaspoon thyme

2 tablespoons tomato paste

1 tablespoon cornflour, for thickening

1 dash pepper

1/4 cup water

1 1/2 lbs potatoes, boiled and peeled

1/4 lb butter

2 tablespoons mayonnaise

1 tablespoon heavy cream

1 egg

1 dash cheese

salt & pepper
Directions
For the beef filling, heat a tablespoon of oil in a pan. Fry the beef, onion, carrots, beef stock, thyme, tomato paste, pepper and 1/4 water with cornflour until fairly thick but not dry. Put peas in till cooked. Dish into a Pyrex container and keep cool.

For the mash potato topping, boil potatoes until cooked. Remove skin and mash with butter, egg, mayonnaise, cream, pepper, salt and seasoning. Mash until creamy (do not blend).

Pipe on top of cooked beef and sprinkle with cheese on top and grill for 5 to 10 minutes until top is golden brown. Serve.

•The above recipe can serve 5 to 6 persons. For 2 you can just cut the recipe in half and for the mash potatoes, you don't have to be exact--just adjust how thick you want the potato topping to be or if you want more beef than potato.