Sausage and Chickpea Casserole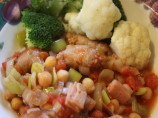 Photo by Leggy Peggy
Prep Time: 20 mins
Total Time: 55 mins
Servings: 6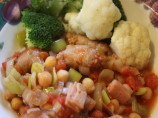 Photo by Leggy Peggy
About This Recipe
"I made this with pork and fennel sausages, triple-smoked bacon and ingredients I had in the pantry/fridge. Delicious - but if you start with tasty sausages and bacon, you can't go wrong! You could make this with any vegetables you happen to have."
Ingredients
2 tablespoons oil

500 g pork sausage ( 6 sausages)

100 g bacon

2 onions

400 g canned tomatoes ( tinned)

420 g canned chick-peas ( tinned)

1 leek

salt

pepper

1/2 teaspoon paprika

2 sprigs fresh thyme or 1/2 teaspoon dried thyme

1/2 cup parsley

250 g cauliflower

250 g broccoli
Directions
Heat the oil in a frying pan and brown the sausages. They don't have to be cooked through. Remove and let cool slightly.

Cut the bacon into strips and fry in the oil.

Add sliced onions and continue cooking, stirring occasionally until the onions are soft.

Cut the sausage into slices and put in a casserole dish.

Add the tomatoes, drained chickpeas and chopped leek.

If there is a lot of fat in the bacon you may want to drain the fat off the onions and bacon. Add them to the casserole dish.

Add paprika, salt, pepper and thyme and stir to combine. Dried mixed herbs or dried thyme will do.

Finely chop the parsley and add half of it to the dish.

Cover and bake in the oven at 170C/340F for 35 minutes.

In the last few minutes of cooking, steam some cauliflower and/or broccoli or cook in the microwave.

Stir the steamed vegetables into the casserole.

Garnish with the reserved parsley.