Mini Cocoa Swirl Cheesecakes (Vegan)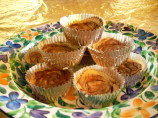 Photo by Chef Joey Z.
Prep Time: 10 mins
Total Time: 30 mins
Servings: 12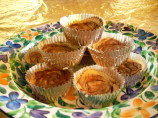 Photo by Chef Joey Z.
About This Recipe
"I got the original, non-vegan recipe for this dessert from my South Beach Diet Quick & Easy Cookbook. I made this recipe vegan. I haven't had a piece of real cheesecake in years and with my cholesterol concerns I avoid it. But today I decided I just had to have a piece so I concocted this vegan recipe. I didn't include the 2 hours it takes to chill these in the fridge in preparation time. Also note that these are not sweet at all. So if you prefer them sweeter you could add an extra tablespoon of powdered sweetener of your choice to the recipe."
Ingredients
8 ounces vegan cream cheese ( I used tofutti)

1 (12 1/3 ounce) packages tofu ( Mori-Nu silken extra firm)

1 tablespoon agave syrup

6 teaspoons egg substitute ( I used Ener-G)

8 tablespoons warm water ( mix with the Ener-G)

1 teaspoon vanilla extract

2 teaspoons cocoa powder ( sifted and unsweetened)
Directions
Preheat oven to 350'F.

Line 12 muffin cups with paper or foil liners.

Blend the tofu and vegan cream cheese in a food processor until smooth and creamy.

In a small bowl, prepare your egg replacer and mix to combine.

Add the agave, vanilla and prepared egg replacer to the tofu/cream cheese mixture and combine.

Fill each prepared muffin cups to about half full.

Add the sifted coco to the cheese cake mixture that you have left and whisk until well mixed.

Drop the chocolate cheese mixture by heaping

teaspoons on the top of each of the white cheese mixture and fold in and swirl.

Put the ready cheese cakes in a large pan and fill the pan 1/2 way up the sides of the muffin cups. This is called a bain-marie and is often used to help delicate desserts set in the oven and help prevent the top from cracking.

Bake the cheesecakes for 20 minutes until set.

When done, remove the muffin tin and set on a metal rack to cool to room temperature, then refrigerate the cheesecakes. Two hours should be sufficient.

Enjoy.