100% Whole Wheat Irish Soda Bread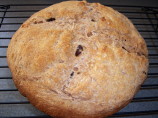 Photo by NELady
Prep Time: 15 mins
Total Time: 50 mins
Yield: 2 loaves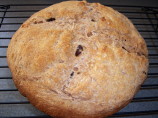 Photo by NELady
About This Recipe
"I just tried this recipe for the first time, and I immediately wanted to put it online so that I would always be able to find it. It's from La Leche League's cookbook, _Whole Foods for the Whole Family_. Of course a whole wheat bread is always different from a white flour bread, but I was amazed at how well this recipe captures the taste and texture of Irish soda bread. It's dense and crumbly and a bit sweet, and very delicious. It's also quite easy to make. It's a "quick bread" recipe -- no yeast, no rising -- but you shape it into round loaves, and it feels more "bread-y" to me than most quick breads. I can't wait to make it again. Enjoy!"
Ingredients
4 cups whole wheat flour

3 teaspoons baking powder

1 teaspoon baking soda

1 teaspoon salt

1/4 cup butter ( 4 tablespoons)

1 1/4 cups raisins or 1 1/4 cups currants

1 egg, beaten

1 3/4 cups low-fat buttermilk ( or substitute 1 1/2 C plain yogurt and 1/4 C milk)

1 tablespoon molasses or 1 tablespoon honey
Directions
In a big mixing bowl, combine flour, baking powder, soda, and salt.

Cut in butter until it reaches a coarse meal consistency. (I started with two knives, then finished the process with my fingers.).

Add raisins.

Combine liquids separately. Add liquids to dry ingredients.

Mix until a soft dough forms. At some point it will become hard to stir it, and it will be better to use your hands. Kneading the dough is the best way to combine all the ingredients completely -- knead it gently until it is smooth (about 3 minutes). You can knead it right there in the mixing bowl.

Shape the dough into two balls, and place them on a greased cookie sheet. Flatten each ball slightly and cut an X about 1/4" deep in the top of each loaf.

Bake at 375 for 35 minutes.