Tuna Pabucas (Patties) With Two Radish-Caper Sauce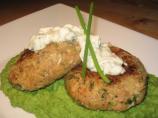 Photo by The Flying Chef
Prep Time: 20 mins
Total Time: 30 mins
Servings: 3-4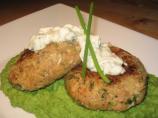 Photo by The Flying Chef
About This Recipe
"One part of a "let's see what we have in the house" flavor packed dinner full of herbs - Tuna Pabuca (patty, burger, cake - everyone seems to call it something different) with Two Radish-Caper Sauce, Sautéed Avocado Salad, and Simple Microwave Sesame Rice."
Ingredients
1 cup panko breadcrumbs ( dried bread crumbs)

1 (6 1/2 ounce) cans tuna ( drained)

1 egg

1 tablespoon Dijon mustard

1 tablespoon minced garlic paste

1/2 teaspoon dill weed

1/4 cup finely cut scallion top

2 tablespoons finely snipped fresh basil

1 tablespoon olive oil

1/4 cup mayonnaise

1/2 teaspoon wasabi

3 teaspoons horseradish

2 tablespoons finely snipped fresh parsley

1 teaspoon capers
Directions
Thoroughly combine mayonnaise, wasabi, horseradish, parsley, and capers in a bowl with lid.

Place in refrigerator.

Mix panko, tuna, egg, mustard, garlic, dill weed, scallion, and basil until smooth.

Form six small pabucas.

Sauté pabucas in olive oil in frying pan on medium low heat until golden-brown.

Place pabucas on serving dish and spoon on sauce.