Zurie's Holey Rustic Olive-And-Cheddar Bread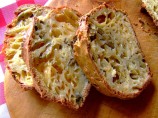 Photo by Zurie
Prep Time: 25 mins
Total Time: 1 hr 20 mins
Yield: 1 bread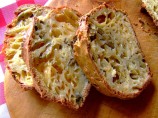 Photo by Zurie
About This Recipe
"This is based on a French recipe but I changed it substantially. Be warned that this "bread" has a consistency unlike any you've seen! It's actually delicious ... It can be eaten as it, without butter. It'll be great with wine and cheeses or on a platter with cold meats and other savory items. It's great with fried fish, or simply a mixed-greens salad. Next time I'll probably add walnuts in chunky bits as well. Easy and quick. I give both metric and American weights and measures."
Ingredients
7 ounces green olives, pitted, drained and patted dry ( or use pimiento-stuffed green olives, 200 g sachet, drained)

3 1/2 ounces cheddar cheese, mature ( 100 g, best quality)

9 ounces all-purpose flour ( 260 g or 2 cups)

3 eggs

1 tablespoon baking powder ( 15 ml)

4 fluid ounces dry white wine ( 125 ml)

1/3 cup olive oil ( 80 ml)

1 tablespoon creme fraiche ( 15 ml)

2 -3 teaspoons freshly-grated black pepper ( 10 - 15 ml, to taste)

1 pinch flaky sea salt ( or fleur de sel) (optional)
Directions
Grease a bread tin very well with butter. Mine have slightly sloping sides and measure, on the bottom, 3 1/4 x 7 1/2", and is about 2 " deep. (19 x 8 1/2 cm, 5 cm deep).

Heat oven to 350 deg F/180 deg C, or slightly less if you have a convection oven.

Drain the olives and pat dry with kitchen paper. Slice all of them into rounds.

Grate the cheese on the large holes of your cheese grater, weigh, and keep.

Put the flour into a bowl, break in the eggs, and whisk with electric beater. The eggs and flour will form small clumps.

Add the baking powder, white wine, olive oil and creme fraiche to the flour-and-egg mixture. Whisk or beat until batter is smooth.

Fold in the sliced olives and the cheese, folding in well.

Add the black pepper, and strew over a pinch of salt if you like, although it's not strictly necessary due to the salty olives and the cheese.

Scrape the cake-like batter into the greased tin and smooth the top. Bake for 55 - 60 minutes. Best is to test with a skewer, which should come out clean when bread is done.

Turn out and cool on a rack.

(The top might crack, which is normal).