Moist Bread Dressing or Stuffing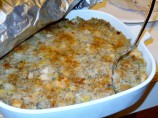 Photo by Bonnie G #2
Prep Time: 30 mins
Total Time: 2 hrs
Serves: 16, Yield: 16 cups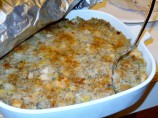 Photo by Bonnie G #2
About This Recipe
"An old recipe from a 1960's Good Housekeeping cookbook; this was my mom's classic stuffing recipe that everyone adores. I prefer the tidiness of dressing cooked separately from the turkey, and so I've adapted the recipe to be cooked in a casserole but still retain the moistness of a stuffing. Instructions for using it either way are included. Times are approximate, as they will depend on the temperature of the oven and how full the oven is. Yield is also approximate. Allow around 1 c stuffing per 1 lb of turkey."
Ingredients
1 quart boiling water (3 cups if using as stuffing) or 1 quart chicken broth ( 3 cups if using as stuffing)

turkey giblets ( including neck, but excluding liver)

1 bay leaf

1 pinch salt ( or to taste, may omit if using broth)

1/4 teaspoon peppercorn

1 -1 1/2 cup butter

1 cup minced onion

1/2 teaspoon black pepper

2 teaspoons poultry seasoning

1 teaspoon salt ( or to taste)

1/4 cup snipped fresh parsley

1/4 cup diced celery

6 quarts day-old white bread, cut into 1/2 inch cubes ( 24 cups, lightly packed, or about 1 1/2-2 loaves)

1/4 cup dry mustard

2 -3 eggs ( omit for stuffing option)
Directions
Bring water or broth to a boil in a small saucepan. Add giblets, neck, bay leaf, salt (if using), and peppercorns, and simmer for about 45 minutes or until tender and cooked through.

Remove bay leaf, giblets, and neck from pan. Discard bay leaf.

Mince giblets. Remove as much meat as possible from neck bones and mince. Add minced giblets and meat back to broth.

Add butter and onion to pan, bring to a simmer, and simmer for 5 minutes.

Meanwhile, place remaining ingredients except eggs into a very large bowl.

Pour giblet mixture over bread mixture and toss to mix together well.

For Stuffing: Stuff turkey loosely (do not pack) and roast as usual for stuffed turkey. Bake any leftover stuffing in a covered casserole alongside turkey until done, about 30-45 minutes at 350* F, depending on quantity (should be set, not wet, in the center). Adjust times as needed to bake at same temperature as turkey. Makes enough to stuff about a 16 lb turkey.

For Dressing: Mix in eggs. Transfer to one large or two smaller baking dishes. Cover tightly and bake along with turkey for about 40-45 minutes for two small dishes or about 50-60 minutes for one large dish, at 350* F or until cooked through (should be set in middle, not wet). Adjust times as needed to bake at same temperature as turkey.