Baked Beef Empanadas (Light)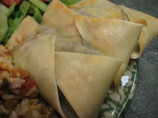 Photo by MsSally
Prep Time: 45 mins
Total Time: 1 hr 15 mins
Yield: 36 empanadas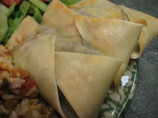 Photo by MsSally
About This Recipe
"From Cooking Light--they use wonton skins for easy assembly. Haven't tried it yet. This makes 36 empanadas at 3 per serving so I plan to freeze most."
Ingredients
1 cup finely chopped red potatoes

1 cup finely chopped onion

1 cup beef broth

1/4 teaspoon salt

1/4 teaspoon ground cumin

1/4 teaspoon ground allspice

1/4 teaspoon black pepper

1/2 lb boneless beef top sirloin steak, trimmed and diced

1 garlic clove, minced

1 tablespoon finely chopped cilantro

1 tablespoon cornstarch

1 tablespoon cold water

36 wonton wrappers

cooking spray

fresh cilantro stem (optional)
Directions
Combine first 10 ingredients in a saucepan. Bring to a boil over medium heat, stirring occasionally. Reduce heat; simmer 8 minutes or until potato is done, stirring occasionally. Remove from heat. Cool.

Preheat oven to 400°F Place 2 baking sheets in oven for about 10 minutes.

Drain meat mixture in a colander over a bowl. Discard liquid. Finely chop meat mixture with a knife, or place in a food processor, and pulse 2 times or until finely chopped. Combine cornstarch and water, stirring with a whisk.

Working with one won ton wrapper at a time (cover the remaining won ton wrappers with a damp towel to keep them from drying), spoon 1 tablespoon beef mixture into center of each wrapper. Moisten the edges of each wrapper with the cornstarch mixture. Bring 2 opposite corners together. Pinch the points to seal, forming a triangle. Place filled wrapper on a wire rack. Repeat the procedure with the remaining beef mixture, won ton wrappers, and cornstarch mixture.

Remove the baking sheets from the oven; coat baking sheets with cooking spray. Arrange the empanadas in a single layer on baking sheets. Coat the empanadas with cooking spray. Bake at 400°F for 8 minutes or until golden, turning once. Garnish with cilantro, if desired.