Crock Pot Roast Beast (Beef - Can Use Moose or Other Wild Game)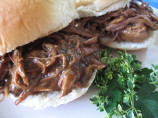 Photo by Brenda.
Prep Time: 5 mins
Total Time: 10 hrs 5 mins
Servings: 8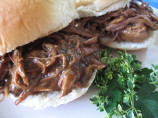 Photo by Brenda.
About This Recipe
"Just something I threw together one day when we were going to be gone all day and I didn't want to do the same old (but yummy) crock pot roast. The "drippings" from this dish make a very flavorful gravy to serve with the roast and mashed potatoes. I think this would be good with a few sliced carrots and celery tossed in also. **This can also be used with moose and other wild game** This is a nice way to cook wild game that tends to be a bit dry. You can add water if it is too salty for your tastes."
Ingredients
3 lbs beef roast ( boneless)

1 (1 ounce) package lipton dry onion soup mix

1 (7/8 ounce) package brown gravy mix

1 (5/8 ounce) package zesty Italian salad dressing mix

1 (1 ounce) package ranch dressing mix

1 cup red wine

1 cup sliced cremini mushroom

1 1/2 teaspoons thyme ( or to taste)
Directions
Spray crock pot with PAM.

Place roast in crock pot.

Empty contents of soup mix, gravy, and both salad dressing envelopes over roast in crock pot - sprinkling evenly.

Add wine.

Add sliced mushrooms.

Sprinkle thyme over top of all.

Cover and cook on low for 8 - 10 hours.

I use the drippings to make a delicious, flavorful gravy.