Pork Chops in Adobo Sauce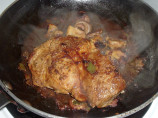 Photo by Bergy
Prep Time: 1 hr 10 mins
Total Time: 1 hr 55 mins
Servings: 4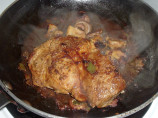 Photo by Bergy
About This Recipe
"Adobo sauce is used for pickling meats In this recipe it is diluted with the tomatoe sauce and gives a delicious flavor to the porkchops"
Ingredients
3 dried ancho peppers, stem & seeds removed ( you can substitute 3 tbsp chili powder but not as good)

1 medium onion, chopped

1/2 cup tomato sauce

2 tablespoons vinegar

1 tablespoon flour

1/2 teaspoon dried oregano

1/4 teaspoon cumin

3 cloves garlic, minced

4 pork loin chops, 1/2 " thick and trimmed of fat

For garnish

lettuce leaf (optional)

radish, roses (optional)

avocado (optional)

sour cream (optional)
Directions
After cleaning the ancho peppers cut them into small pieces (use scissors) and pour boiling water over them and soak for 1 hour or until they are pliable Adobo Sauce: In a blender or food processor place the onion, tomatoe sauce, vinegar, flour, oregano, cumin, garlic and adobo peppers (or chili), season with a bit of salt and process until smooth Pour the sauce in a skillet.

Place chops in the sauce, turn over to coat the chops.

Simmer covered for apprx 45 minutes or until the chops are tender.

If using garnish arrand the chops on a platter on lettuce lettuce leaves and decorate with sliced avacado, radish roses and a bit of sour cream.