Tom Kha (Coconut Soup) With Shrimp, Easy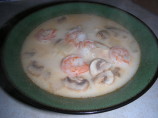 Photo by Erin K. Brown
Prep Time: 30 mins
Total Time: 50 mins
Serves: 10-12, Yield: 12 cups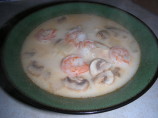 Photo by Erin K. Brown
About This Recipe
"The easy get-everything-at-the-grocery-store version"
Ingredients
4 stalk fresh lemongrass

1 piece fresh ginger ( 2-3 inches)

907.18 g chicken broth

2 (793.78 g) can coconut milk

236.59-473.18 ml sliced mushrooms

50-60 raw shrimp ( thawed)

4.92-24.64 ml chili oil ( to taste)

1 lime, juice of

0.0-59.16 ml fish sauce (optional)

177.44 ml jasmine rice, per person

1 cheesecloth ( 10in x 10in piece)
Directions
Cook as much Jasmine rice as needed.

Pour the chicken broth into a large pot over medium heat.

Shake the coconut milk thoroughly and add to the pot.

Add sliced mushrooms. (You can add chili oil now or anytime following. The longer it is mixing, the stronger the flavor).

Cut lemon grass into ~1 inch long pieces. Set aside. Thinly slice ginger. Set aside.

Cut a 10in x 10in square of cheesecloth. Place the lemon grass & ginger into the cheesecloth and tie closed. Drop the sachet into the pot.

Let simmer for ~15 minutes (usually the time I use to peel the shrimp and cut them in half).

Add Chili oil if you haven't already.

Add fish sauce, if desired.

Add shrimp. Cook ~3 minutes more (until shrimp are pink).

Take off the heat, remove the lemon grass/ginger sachet, and add lime juice.

Serve with desired amount of Jasmine rice.