Orange Steamed English Pudding With Rum Butter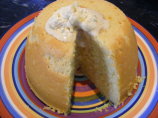 Photo by Sara 76
Prep Time: 15 mins
Total Time: 2 hrs 15 mins
Servings: 8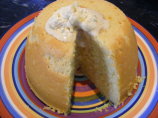 Photo by Sara 76
About This Recipe
"Haven't tried this one, but sounds really good."
Ingredients
1/2 cup unsalted butter, softened

1 cup sugar

4 large eggs

2 cups all-purpose flour

2 teaspoons baking powder

2/3 cup orange juice

2 teaspoons orange zest, grated fine

2 teaspoons lemon zest, grated fine

Rum butter

1/2 cup unsalted butter, softened

3/4 cup powdered sugar

2 -3 tablespoons dark rum

1 tablespoon orange zest, freshly grated

1/2 teaspoon nutmeg, freshly grated
Directions
Cream the butter and sugar together in the bowl of an electric mixer until light and fluffy. Beat in eggs one at a time, making sure each is incorporated before adding next.

Sift flour and baking powder together in a separate bowl and alternately add flour mixture to the butter mixture with the orange juice.

Stir in grated zests and turn the batter into a well buttered 1 quart steamed pudding mold and cover tightly with a lid or a double layer of foil secured with kitchen string. Set the mold on a rack in a kettle with a tight fitting lid and add enough hot water to kettle to reach 2/3 of the way up the sides of the mold. Steam the pudding covered for 2 hours.

Remove and let pudding cool a bit on a rack for 10 minutes, uncovered. Meanwhile, MAKE THE RUM BUTTER: With an electric mixer with a whip attachment, cream butter. Beat in sugar a little at a time and then beat in rum, zest and nutmeg. Beat until light and fluffy and transfer to a serving bowl. Place a serving plate on top of the pudding and invert onto a serving plate and serve with the rum butter.