Lentils With Noodles, Onions and Tomatoes: Syrian Rishta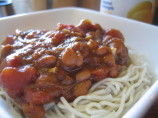 Photo by N_Babyak
Prep Time: 15 mins
Total Time: 1 hr
Servings: 6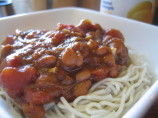 Photo by N_Babyak
About This Recipe
"From: The Versatile Grain and the Elegant Bean: A Celebration of the World's Most Healthful Foods by Sheryl and Mel London In Syria, noodles and lentils are spiced in a most unusual way for a Western palate that expects all pasta dishes to contain oregano or basil rather than allspice and coriander. We think you'll find that this Middle East combination is rather pleasing and unusual."
Ingredients
2 tablespoons olive oil

1 large onion, finely chopped

2 -3 garlic cloves, finely minced

1 cup lentils

2 cups unsalted chicken stock

3 large plum tomatoes or 1 cup drained italian canned tomato, coarsely chopped

2 tablespoons tomato paste

1/4 teaspoon hot pepper flakes

1/4 teaspoon ground cumin

1/2 teaspoon ground allspice

1/2 teaspoon ground coriander

salt & freshly ground black pepper, to taste

8 ounces tagliatelle pasta noodles or 8 ounces fettuccine pasta

1 teaspoon lemon juice
Directions
Heat the oil in a 5-qt nonstick Dutch Oven and saute the onions and garlic over low heat, stirring constanly for 5 minutes, or until the onions are soft and begin to brown. Stir in the lentils and add the chicken stock. Bring to a boil, lower the heat, cover and simmer for 15 to 20 minutes. Then stir in the tomatoes, tomato paste, hot pepper flakes, cumin, allspice, coriander, salt and pepper. Simmer for 10 to 15 minutes more, or until the lentils are soft but hold their shape.

Meanwhile, boil and drain the pasta. Transfer the lentils and pasta to a large warm serving bowl. Sprinkle with lemon juice and toss lightly. Serve hot.

Note: Rishta or "threads" are thin, ribbonlike fresh homemade pasta.