Mark Bittman's Autumn Millet Bake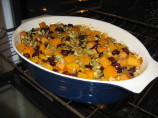 Photo by averybird
Prep Time: 15 mins
Total Time: 1 hr
Servings: 4-6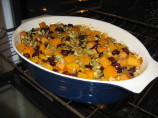 Photo by averybird
About This Recipe
"This recipes calls for Millet, but you could also try quinoa, teff, or cracked wheat."
Ingredients
1/4 cup extra virgin olive oil

3/4 cup millet

1 medium butternut squash, peeled seeded and cut into 1-inch cubes

1 cup fresh cranberries

salt & freshly ground black pepper

1 tablespoon minced sage leaves or 1 teaspoon dried sage

2 tablespoons maple syrup or 2 tablespoons honey

1/2 cup vegetable stock

1 1/4 cups cream

1/4 cup pumpkin seeds or 1/4 cup coarsely chopped hazelnuts
Directions
Preheat the oven to 375F and grease a 9x13-inch baking dish with olive oil.

Put 2 tablespoons of oil in a small skillet over medium-high heat. When hot, add the millet and cook, stirring frequently, until fragrant and golden, about 2-3 minutes. Do not overcook. Spread in the bottom of the prepared baking dish.

Scatter the squash or pumpkin cubes and the cranberries on top of the millet. Sprinkle with salt and pepper and the sage and drizzle with syrup. Mix together the stock and cream then carefully pour the warmed stock over all. Cover with foil and bake without disturbing, for 45 minutes.

Carefully uncover and turn the oven to 400°F Adjust the seasoning if necessary. If it looks too dry, add more water or stock until moist. Sprinkle the pumpkin seeds on top, and return the dish to the oven. Bake until the mixture bubbles and the top is browned and the millet is cooked through, another 10 minutes or so.

Serve.