Healthy Shrimp and Pasta Alfredo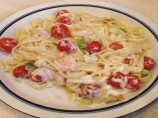 Photo by NorthwestGal
Prep Time: 20 mins
Total Time: 30 mins
Servings: 4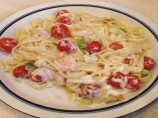 Photo by NorthwestGal
About This Recipe
"Modified a combination of recipes to create this delicious meal! Can substitute skim milk to lower the fat even more."
Ingredients
Pasta

Shrimp Mixture

2 tablespoons butter

1/2 cup onions or 1/2 cup shallot, coarsely chopped

12 ounces medium shrimp, thawed ( peeled and deveined)

1 cup green bell pepper, coarsely chopped

1 teaspoon fresh garlic, finely chopped

1/2 teaspoon salt

1/4 teaspoon ground pepper

1 1/2 cups grape tomatoes or 1 1/2 cups cherry tomatoes, halved

Alfredo Sauce

4 ounces fat free cream cheese

1 cup milk

1/4 cup grated parmesan cheese or 1/4 cup parmigiano-reggiano cheese

pepper (optional)

Cajun Seasoning

cayenne pepper (optional)

white pepper (optional)

ground black pepper (optional)
Directions
Begin boiling the water for the pasta.

Melt butter in a large (about 10") skillet until sizzling.

Add pasta to the water.

Add onion, shrimp, bell pepper, garlic, salt and pepper to the skillet.

Cook over medium heat, stirring occasionally, until the shrimp turn pink (about 6-7 minutes).

While the shrimp and pasta are cooking, put all ingredients for the alfredo sauce (except pepper) in a blender and puree until smooth.

Pour contents of blender in a small saucepan over medium heat until it just starts to boil.

Lower the alfredo sauce to low and stir frequently, adding pepper if desired.

Strain the pasta if fully cooked and return to the saucepan.

Add the shrimp mixture to the pasta, then pour the alfredo sauce on top. Mix well.

If extra flavor is desired, feel free to add any of the cajun spices listed above.