Meatless Stuffed Bell Peppers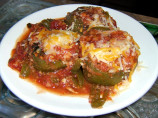 Photo by Kathy228
Prep Time: 20 mins
Total Time: 1 hr 50 mins
Servings: 4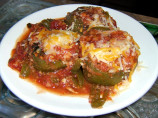 Photo by Kathy228
About This Recipe
"A nice change from the ground meat filling; it's tender and light yet satisfies. Serve with a salad and biscuits; mashed potatoes puts this in the comfort food zone."
Ingredients
FILLING

2 cups cracked wheat, cooked

1 cup rice, cooked

1 1/2 cups grated monterey jack cheese

3/4 cup plain yogurt or 3/4 cup sour cream

2 eggs

1/4 cup cilantro, chopped

1/2-3/4 cup finely chopped onion

1/2 teaspoon salt

1/2 teaspoon pepper

2 tablespoons dry onion soup mix

SAUCE

2 (14 ounce) cans diced tomatoes

1 cup water

1 tablespoon olive oil

1/2 cup ketchup or 1/2 cup tomato paste

1 medium onion, sliced

1/2 cup cilantro, roughly chopped

1 teaspoon agave syrup or 1 teaspoon sugar

1/8 teaspoon cinnamon

grated cheese
Directions
Cut the top rings off and seed each pepper, creating deep cups. Coarsely dice the pepper rings. Set aside separately.

Mix together the filling ingredients. Set aside.

In a pan large enough to hold the peppers, mix together the sauce ingredients. Stir in the reserved diced pepper rings.

Lightly salt the insides of each pepper cup.

Stuff each cup with filling, standing each filled pepper on top of the sauce in the pan.

Carefully baste the sauce over the peppers.

Cover and bake 375°F for 45 minutes. Check it a couple of times to be sure the sauce doesn't cook down too much. Add a little water if necessary.

After the 45 minutes, remove from oven and sprinkle grated cheese on each filled pepper.

Remove pan cover and continue baking about 20 minutes or 'til the sauce thickens and the cheese melts.

Let cool for at least 1/2 hour before serving.