Southern Chicken Parmegian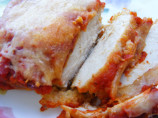 Photo by Lavender Lynn
Prep Time: 15 mins
Total Time: 1 hr
Servings: 2-4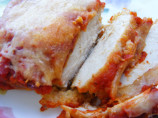 Photo by Lavender Lynn
About This Recipe
"This is a delicious recipe and It's SUPER easy and fun to make...It can be easy, but you must follow directions! I saw the recipe one day in Paula Deen's Home cooking & I added a few of my personal touches and it's delicious!"
Ingredients
2 large eggs

1 cup cornmeal

1 cup breadcrumbs ( go and buy a container, do not crush up OLD BREAD!!)

1 (8 ounce) envelopes Italian salad dressing mix

1 (24 ounce) jars marinara sauce ( preferably bertoli..it's super yumm!)

1/2 cup mozzarella cheese

1/2 cup parmesan cheese

1/2 cup olive oil

4 boneless chicken breasts
Directions
*I am remembering this recipe straight from my head, so bare w/ me!*.

Preheat your oven to 350 degrees. In two shallow dishes (bowls will be fine) mix the cornmeal, dry Italian mix & bread crumbs together (and put to the side). In the other shallow dish, lightly beat both eggs (& put to the side). In a frying pan, pour 1/2 cup of olive oil (let oil heat). Dip each piece of chicken into the egg mixture then continue to the cornmeal/breadcrumb/Italian seasoning mixture and put in the frying pan. After you have repeated that step w/ each piece of chicken, let each piece fry for about 2-3 min on each side, or until both sides are golden brown.

Place your golden brown chicken (4 pieces) in a 13 x 9 baking dish & pop it in the over for 15 minutes (uncovered). After 15 minutes is up, pour the entire jar of marinara on chicken and pop back in over for another 15 minutes. After 15 minutes, pour both mozzarella & parmesan cheese mixture over chicken and pop in over for another 15 minutes.

The total baking time is 45 minutes and this dish goes great with Fettuccine Alfredo. (I usually buy the boxed with instructions kind -- it's yummy and fast!).