Cincinnati Hubby's Cincinnati Chili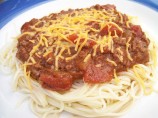 Photo by AZPARZYCH
Prep Time: 20 mins
Total Time: 1 hr 50 mins
Servings: 7-8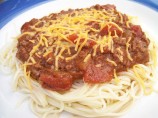 Photo by AZPARZYCH
About This Recipe
"My husband grew up in Cincinnati and he loves their special chili. It is different than other chilis, and is served over spaghetti. When you have a "three way" it is also topped with grated Cheddar cheese. A "four way" is also topped with lots of chopped yellow onions. A "five way" (no way, for my DH) adds cooked beans. I have tried many Cincinnati recipes, but DH always says - "Not as good as yours". Mine actually originally came from a cookbook I bought in Seattle. I think it tastes better the second day, although it will have a tad more HEAT to it the second day. Leftovers are great on "coneys" - as they call them in Cincinnati. Good quality hot dogs on buns, sprinkled with cheese and onions! Enjoy!"
Ingredients
2 tablespoons peanut oil

1 lb ground beef

1 lb ground pork

4 yellow onions, peeled and chopped

6 garlic cloves, chopped

1 tablespoon ground cumin ( to taste)

4 tablespoons hot chili powder

3 bay leaves

salt ( to taste)

2 teaspoons cinnamon

1 teaspoon allspice ( or more to taste)

2 teaspoons Tabasco sauce

4 tablespoons cocoa powder

2 tablespoons Worcestershire sauce

4 tablespoons white vinegar

1 (28 ounce) cans tomatoes, pureed

1 tablespoon oregano
Directions
Heat a heavy stockpot and add the oil. Sauate the meat, onions, garlic, cumin, chili powder and bay leaves until meat is barely browned and the onions are clear. Drain fat and discard.

Add remaining ingredients and bring to a simmer. Cook, covered, for 1 1/2 hours. You may need to add a little water as it cooks.

Cook spaghetti and drain well. Cover with chili, cheese and chopped onions! Enjoy!