Dominican Pollo Guisado / Stewed Chicken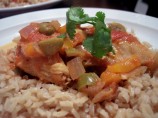 Photo by jrusk
Prep Time: 10 mins
Total Time: 1 hr
Servings: 4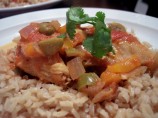 Photo by jrusk
About This Recipe
"This is my favorite dish, every time I visit my parents they must cook this for me. It's a traditional dish in Dominican families sometimes even served at least once a week. The adobo powder may be found in the Hispanic isle at your local supermarket. The Goya Adobo has a red cap. You'll find yourself seasoning everything with this. Serve with my Dominican Bean Stew / Habichuelas Rojas Guisadas"
Ingredients
1 (2 -3 lb) whole chickens, cut into pieces

2 -3 tablespoons lime juice ( about the juice of 2 limes)

2 cubanelle peppers, seeded and chopped or 2 green bell peppers

1 small red onion, chopped

2 plum tomatoes, chopped

2 stalks fresh cilantro, with leaves

2 tablespoons oil

1/4 cup seedless olive, sliced (optional)

2 tablespoons tomato paste

1/2 teaspoon mashed garlic

1/2-1 tablespoon sugar

1/2 teaspoon crushed dried oregano

1/2 tablespoon salt

2 tablespoons goya brand original adobo seasoning
Directions
Wash chicken with sterilized water and rub the chicken with the lime juice. In a bowl mix the chicken with peppers, tomatoes, onions and season with oregano, garlic and a pinch of salt. Liberally sprinkle with the adobo. Marinade for at least an hour and as much as to 3 days in the fridge.

In a large pot (cast iron pot preferred) heat the oil over medium-high heat, add the sugar and let it brown, then put the chicken in pot, reserve the vegetables and liquid. Saute until the meat is light brown. Add 2 tbsp of water, cover and simmer over medium heat until meat is tender adjusting water when necessary, add the rest of the ingredients (except tomato paste) including vegetables and marinade cover again and simmer adding more water if needed. There should be about 1" worth of liquid.

When the vegetables are tender mix 1/2 cup of water and the tomato paste and add to the pot add the cilantro continue to simmer over low heat to produce a thin sauce. Adjust salt to taste remove cilantro before serving. Serve over white rice with stewed beans.

Enjoy!