Thai-Inspired Steak and Pasta Salad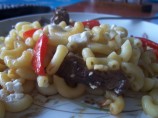 Photo by carlamoose
Prep Time: 4 hrs
Total Time: 4 hrs 30 mins
Servings: 2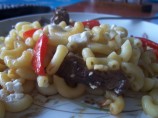 Photo by carlamoose
About This Recipe
"Such flavorful steak - every bite sings as you chew. Two things about the ingredients: 1) I use ground herbs and spices because I can't afford to keep the fresh stuff around. I posted "fresh stuff equivalents" just in case. 2) I like my noodles completely cooked, all the way through...ie I don't like al dente. So if YOU like al dente, be sure to adjust the cooking time of your noodles. I got the marinade from Food Network's "Healthy Appetite with Ellie Krieger""
Ingredients
Marinade

4 tablespoons lime juice, plus

2 tablespoons lime juice

6 tablespoons soy sauce

6 tablespoons oil

4 tablespoons brown sugar

1/4 teaspoon garlic powder or 1 garlic clove

1/4 teaspoon ginger or 1 1/2 teaspoons fresh ginger

1 dash curry powder

Pasta Salad

2 cups uncooked penne

1/4 lb green beans (optional)

2 beef eye round steaks

1/2 cup thinly slice onion

1/2 red pepper, thinly sliced

sesame seeds

1/2 cup feta cheese
Directions
Mix all ingredients of marinade, except for 2 Tbls of lime juice.

Pour 1/2 marinade over steak, then add reserved lime juice. Refrigerate other half of marinade for later. Steaks should sit for at least 4 hours, or overnight.

Once steaks are ready, you can either grill them until they are slightly pink in the middle, or broil them. To broil: place on a broiler pan, broil 3 inches from heat 10 minutes or until desired degree of doneness, turning after 5 minutes.

While steak is broiling/grilling, bring 3 quarts water to a boil in a large pot. Add pasta, cook until halfway done, then add green beans (optional). Let pasta alone until it finishes cooking.

Let steak stand for a few minutes, then cut diagonally across grain into thin slices.

Combine onions, red pepper, and steak into a pan. Add the remaining marinade and sesame seeds and saute until steaks are sizzling and onions and peppers are done to your liking.

Serve steak and veggies over pasta, sprinkle with feta cheese.

We use whatever steak we have left for steak and eggs the next morning!