Chef Joey's Papago Tepary & Black Bean Soup (Crock Pot)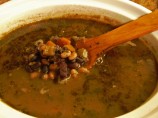 Photo by Chef Joey Z.
Prep Time: 35 mins
Total Time: 6 hrs 35 mins
Servings: 6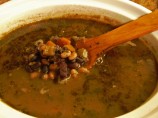 Photo by Chef Joey Z.
About This Recipe
"This is such a wonderful and hardy soup. The whole house smells delicious at the moment. I can't wait to have some with some Indian Fry Bread. I used a 2.5 quart crock pot. Please note, I didn't add the soaking time in this recipe."
Ingredients
1 cup tepary beans ( soaked over night)

1 cup dried black beans ( soaked over night)

1 tablespoon cumin ( add to soaking beans)

1 tablespoon olive oil

1 teaspoon vegan margarine

1 large garlic clove ( minced)

1/2 teaspoon dried dried chipotle powder

4 slices turkey bacon ( diced)

2 medium onions ( diced)

5 cremini mushrooms ( Cremini, cleaned & stems removed)

2 medium shallots ( cut up small)

1 celery ( cut up small)

1 carrot ( cut in small dice)

1 (14 ounce) cans diced tomatoes

1 (32 ounce) packages no-chicken vegetarian chicken broth ( I used Imagine organic)

1 tablespoon dried oregano
Directions
Soak the beans in the fridge in one large container overnight with the cumin. I put in about a tablespoon of cumin in, but its up to you how much you want to add. Make sure you put double the amount of soak water to the beans. You don't want this drying out on you.

In the morning drain the beans and set aside.

In a medium size saute pan, heat up the vegan margarine and olive oil. Cook the turkey bacon, then add the onion and shallots and saute a little longer.

Add the garlic and chipotle powder, or other chili powder if you don't have chipotle. Then add the mushroom and saute for a minute or two, then add the celery and carrots.

Saute for about 5 minutes then add about 1 cup of the no-chicken broth and let this simmer for about 5 more minutes.

Transfer the whole mixture to your crock pot and then add enough broth to fill within 2 inches from the top. Crumble in the oregano.

Give it a good stir.

Set the crock on high and leave for at least 6 hours.

Taste a little of the soup after 6 hours and make sure all the beans are soft and the veggies cooked. If not leave for another 1/2 hour.

About 3/4 of an hour before you serve this add the can of tomatoes. Cook for the remaining time.

Enjoy with some Indian Fry Bread or bread of your choice.

Bon Appetit!