Farmhouse Chicken Soup With Spaetzle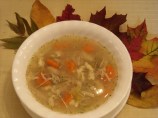 Photo by mums the word
Prep Time: 35 mins
Total Time: 2 hrs 35 mins
Serves: 10-12, Yield: 3.0 quarts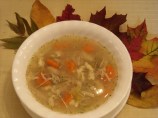 Photo by mums the word
About This Recipe
"This is a hearty soup topped with spaetzle, which our family loves. It is great to have on a cold winter day, or if we are not too hungry we have the soup for dinner with some crusty bread on the side. Enjoy!"
Ingredients
FOR SOUP

1 broiler (3 to 3 1/2 pounds) or 1 broiler-fryer chicken ( 3 to 3 1/2 pounds)

2 cups water

6 1/2 cups chicken broth ( lo-sodium, if desired)

1 1/2 tablespoons butter

1 large onion, chopped

1/2 cup chopped celery

1 cup diced carrot

2 garlic cloves, finely minced

2 teaspoons salt ( can use less, if desired)

1/2 teaspoon pepper

1/2 teaspoon poultry seasoning

1/4 teaspoon crushed red pepper flakes

FOR SPAETZLE

1 1/2 cups all-purpose flour

1/2 teaspoon salt

1/8 teaspoon baking powder

1/8 teaspoon ground nutmeg

2 eggs, well beaten

1/2 cup milk

1 tablespoon minced fresh parsley ( or 1 teaspoon dried)
Directions
Place the chicken, water and broth into a Dutch oven. Bring to a boil. Meanwhile, melt butter in a preheated skillet; add the onion, celery and carrots. Saute on medium heat for 3 minutes. Add garlic and cook for another two minutes. Add the sauteed onion, celery, carrots and garlic to the boiling stock. Add salt, pepper, poultry seasoning and red pepper flakes. Reduce heat, cover and simmer for 1 to 1 1/2 hours or until chicken is tender and broth is flavorful.

Remove chicken from broth; cool. Skim fat from broth. Remove meat from bones; discard bones and skin. Cut meat into bite-size pieces; return to broth. Cover and simmer while preparing spaetzle.

For spaetzle, combine the flour, salt, baking powder and nutmeg in a small bowl. Stir in the eggs, milk and parsley; blend well. With a rubber spatula, push batter through a large-hole grater or colander into the simmering soup. Simmer, uncovered, for 10 minutes or until spaetzle float to the top.