Cream Cheese-Blueberry Muffins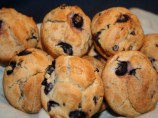 Photo by ~Nimz~
Prep Time: 5 mins
Total Time: 35 mins
Serves: 12, Yield: 12 muffins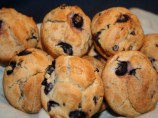 Photo by ~Nimz~
About This Recipe
"I love the taste of cream cheese and blueberries, these make a great breakfast treat or snack and it's so easy."
Ingredients
2 cups flour ( for best results use cake flour)

3/4 cup sugar

1 1/2 teaspoons baking powder

1/2 teaspoon baking soda

1 pinch salt

3 ounces cream cheese, cubed

2 teaspoons lemon juice

2 teaspoons vanilla extract

2 whole eggs

4 tablespoons melted butter

1/2 cup milk

1 cup blueberries
Directions
Preheat oven to 350°F.

Line the cups of a muffin tin with 12 paper liners. Set aside.

Combine flour, sugar, baking powder, baking soda, and salt in a mixing bowl.

Stir well; set aside.

Using metal blade, process cream cheese, lemon juice, and vanilla in food processor until smooth.

Add eggs and process 15 seconds.

Scrape down side of container with a spatula.

With processor running, pour melted butter through food chute.

Process another 10 seconds.

Add milk and process 5 seconds.

Add dry ingredients to container and mix with 4 to 6 half-second pulses.

With a spoon, fold in blueberries.

Pour an equal amount of batter into each muffin cup, filling each about 3/4 full.

Bake 30 minutes in the middle of the oven.

Cool on rack 15 minutes.