Dim Sum Style Gai-Lan (Chinese Broccoli)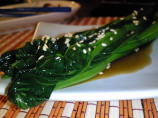 Photo by Coasty
Prep Time: 15 mins
Total Time: 15 mins
Servings: 4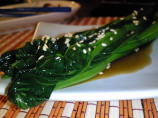 Photo by Coasty
About This Recipe
"This tastes just like the Gai-Lan that my DBF and I get when we go to Dim Sum on Sundays. It is really easy to make at home. It is similar to regular broccoli but it is slightly milder and has broad flat leaves instead of florets. If you can't find Gai Lan, you can substitute broccolini. The baking soda helps the broccoli retain its green color while cooking."
Ingredients
1 lb gai lan or 1 lb chinese broccoli

2 teaspoons salt

1 teaspoon baking soda

1 garlic clove, sliced

1 inch gingerroot ( 1 inch piece, peeled)

2 teaspoons toasted sesame seeds

Sauce

3 tablespoons oyster sauce

3 tablespoons water or 3 tablespoons chicken broth

1 tablespoon mirin or 1 tablespoon dry sherry

1 tablespoon sugar
Directions
Gai Lan: Rinse gai lan and trim the end of the stems. Bring eight cups of water to a boil in a large saucepan or stock pot. Stir in salt, baking soda, garlic and ginger. Add gai-lan. Cover and simmer about 4 minutes, until the gai lan turns bright green and is tender-crisp. Drain and serve drizzled with the oyster sauce and sprinkled with sesame seeds.

Sauce: Mix oyster sauce with water or broth, mirin and sugar in a small saucepan. Bring to a boil to melt the sugar. Remove from heat.