Asia Nora Apricot Chutney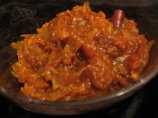 Photo by Engrossed
Prep Time: 15 mins
Total Time: 1 hr 15 mins
Yield: 1 batch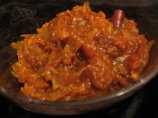 Photo by Engrossed
About This Recipe
"From Asia Nora Restaurant in Washington. A delicious sounding chutney to go with Indian foods. amount is a "batch" as i have not made it yet. If you do before i do, please send in a correction with the amount?"
Ingredients
1 medium onion, chopped

1 inch piece gingerroot, peeled and minced

2 cups drained canned apricots ( about 3/4 of a pound, preferably unsulphured, sliced in half or into 1/2-inch pieces)

1/2 cup white sugar or 1/2 cup brown sugar

1 cup apple cider or 1 cup rice wine vinegar

3 cups water

1 teaspoon curry powder

4 cardamom pods

2 inches cinnamon sticks

minced chili pepper (optional)
Directions
Put the onion, ginger, apricots, sugar, vinegar, water, curry powder, cardamom and cinnamon in a medium saucepan.

Bring to a boil, reduce the heat and simmer for 1 to 1 1/2 hours or until the chutney takes on the consistency of a jam.

Stir the chutney from time to time to prevent it from burning. Cool. If you want a spicy chutney, add some minced chili pepper to the mixture.