P. F. Chang's Vegetarian Lettuce Wraps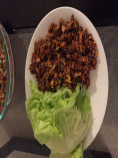 Photo by Chef #1803698133
Prep Time: 20 mins
Total Time: 25 mins
Servings: 4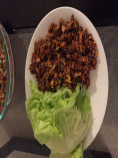 Photo by Chef #1803698133
About This Recipe
"Finally -- The VEGGIE Version! After scouring the internet for the vegetarian lettuce wraps, I finally broke down and decided to tweak the ubiquitous chicken recipe and this worked out great! The cooking sauce is from the original recipe but is enough for two batches of the veggie version so make go ahead and make the full recipe and reserve half for another batch. Save in a jar and store in the fridge until needed. Another tip: when buying bamboo shoots, get the strips. This will cut down on prep time as all you have to do is dice these. I've also included a sauce for adding to the individual wraps after cooking (just like in the restaurant!) I like my sauce spicy so you may want to experiment with the ingredients for a milder version."
Ingredients
Cooking Sauce

1 tablespoon hoisin sauce

1 tablespoon soy sauce

1 tablespoon dry sherry

2 tablespoons vegetarian oyster sauce

2 tablespoons water

1 teaspoon sesame oil

1 teaspoon sugar

2 teaspoons cornstarch

Marinade

1 teaspoon cornstarch

2 teaspoons dry sherry

2 teaspoons soy sauce

1 teaspoon Chinese chili sauce

2 teaspoons water

1 cup baked tofu, diced

2 tablespoons peanut oil or 2 tablespoons sesame oil, mixed

1 tablespoon sesame oil, mixed

1 teaspoon fresh minced ginger

2 garlic cloves, minced

2 green onions, minced

1/4 large red onion, minced

4 ounces bamboo shoots, diced

4 ounces water chestnuts, diced

1 (8 ounce) packages cellophane noodles

1 head iceberg lettuce or 1 bunch green leaf lettuce

Spicy Sauce (Optional)

1 teaspoon rice vinegar

1 teaspoon soy sauce

1 teaspoon dry mustard ( e.g., Coleman's)

1 tablespoon water

1 teaspoon Chinese chili sauce
Directions
Mix the cooking sauce in a bowl and set aside.

For the spicy sauce: In small dish, mix the dry mustard and water until smooth. Add remaining ingredients and mix well.

In medium bowl, combine sherry, soy sauce, chili sauce, sesame oil, cornstarch, and water. Mix well and stir in tofu. Allow to marinate for 15 minutes.

Heat wok or skillet over medium-high heat. Add the mixed oil and stir fry tofu for 2-3 minutes Set aside.

Add the ginger, garlic and onion; stir-fry for about a minute. Add bamboo shoots and water chestnuts; stir-fry for another 2 minutes Return tofu to wok/skillet. Add cooking sauce and cook until thickened (about 2 mins).

Place prepared cellophane noodles onto a platter. Pour tofu mixture over them and serve with lettuce and spicy sauce.