Sweet Coffee House Scones II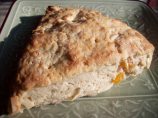 Photo by C. Taylor
Prep Time: 15 mins
Total Time: 32 mins
Serves: 16, Yield: 16 scones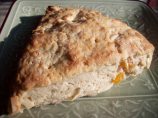 Photo by C. Taylor
About This Recipe
"I was playing around with my original recipe and came up with this version, which I think is a bit more moist. I usually divide the dough in 2 and then add my mix ins so that I get two flavors from one batch. You could easily halve the recipe too. Our current favorites for mix ins are blueberries (usually need to add a little more flour to the mix) and triple chocolate chip."
Ingredients
3 -3 1/4 cups flour ( depends on if your mixins are wet)

1 tablespoon baking powder

1/4 teaspoon salt

1/2 cup sugar

1/3 cup brown sugar ( packed)

12 tablespoons butter

1/3 cup milk

1/2 cup sour cream

2 tablespoons vanilla extract

milk, and

sugar, for topping
Directions
Preheat oven to 425°F.

Mix flour (start with 3 cups), baking powder, salt, sugar and brown sugar, until well incorporated.

Cut the butter into tiny pieces and mix into the flour mixture (you can also use a food processor for this step). Keep cutting in the butter until you incorporate the butter into the flour and it looks like it's the consistency of cornmeal.

Add the milk, sour cream and vanilla extract, and mix to form a dough. If dough is too wet to work with, add a little more flour till you have a moist dough, but it's workable. Add your mix ins and mix till well distributed. If you have a wet mix in like blueberries, you may need to add a little more flour.

Cut dough in two (or cut in two before adding the mixins if you want two flavors) and shape into 2 rounds, 1/2 inch thick. Baste the top with a little milk and then sprinkle with sugar. Cut each circle into 8 wedges. Separate slightly to help them cook. Cook for approximately 17 minutes or until golden brown and cooked through in the middle.