Light Chocolate Carrot Cake With Chocolate Cream Cheese Icing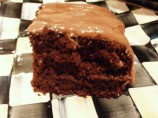 Photo by FLKeysJen
Prep Time: 20 mins
Total Time: 1 hr
Servings: 12-16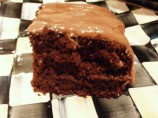 Photo by FLKeysJen
About This Recipe
"It's a chocolate cake with the health benefits of eating a whole carrot per serving! This low fat makeover of Chocolate Carrot Cake with Chocolate Cream Cheese Icing has only 19% of the fat and 14% of the cholesterol, but all of the carrot cake-like texture with coconut and walnuts. To us, this tastes much better than the original which has a strong flavor of vegetable oil. If you think you may be tempted to overindulge, a half recipe fits perfectly in an 8-inch square pan."
Ingredients
CAKE

1 1/2 cups all-purpose flour, sifted

3/4 cup unsweetened cocoa powder

1 1/2 teaspoons baking powder

1 teaspoon baking soda

2 teaspoons cinnamon

1/2 teaspoon nutmeg

1/2 teaspoon ground cloves

1/4 cup walnuts, chopped and toasted

1/4 cup shredded coconut

1/2 cup raisins

3/4 cup egg substitute ( like Egg Beaters)

3/4 cup brown sugar or 3/4 cup Splenda brown sugar blend

3/4 cup sugar or 3/4 cup Splenda Sugar Blend for Baking

2 (1 1/2 ounce) boxes fat-free sugar-free instant chocolate pudding mix ( Jello 1.4 oz boxes)

1 cup fat free sour cream

3 cups carrots, grated

ICING

4 ounces fat free cream cheese

4 ounces neufchatel cheese

2 tablespoons unsweetened cocoa powder

2 cups powdered sugar
Directions
CAKE: In a bowl, combine flours, cocoa, baking powder, baking soda and spices; stir in walnuts, raisins and coconut.

In a large bowl, beat together the egg substitute and sugars; add pudding mix and sour cream; stir in carrots.

Add flour mixture all at once, mixing just until evenly combined.

Spray a 13 x 9-inch cake pan with non-fat cooking spray, and line with parchment paper or waxed paper; then spray the paper with non-fat cooking spray.

Pour the batter into the pan and bake in a 325 degree F oven for 35 to 40 minutes or until the top springs back when lightly touched and cake begins to pull away from the sides of the pan.

Let cool.

TO MAKE ICING: Meanwhile, in a bowl, beat cream cheese and neufchatel cheese until light; gradually beat in the cocoa powder and sugar.

Cover and chill in the refrigerator for 30 to 60 minutes or until spreadable.

Spread over the cooled cake.