Moroccan Chili W/ 10,000 Grains of Sand (Couscous)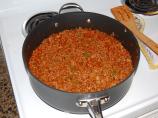 Photo by mikey & ev
Prep Time: 15 mins
Total Time: 40 mins
Servings: 4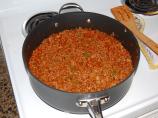 Photo by mikey & ev
About This Recipe
"from Rachel Ray. The 10,000 grains of sand is COUSCOUS! A unique twist on chili. The flavors work very well together. This would go well on top of anything (baked potato, hotdog, etc.)"
Ingredients
Chili

2 tablespoons extra virgin olive oil

2 lbs ground lamb

salt & freshly ground black pepper

2 tablespoons chili powder

1/2 tablespoon ground cumin

1 tablespoon ground coriander

1/4 teaspoon ground cinnamon

1/2 teaspoon paprika

1 bay leaf

1 large onion, chopped

1 green bell pepper, seeded and chopped

2 garlic cloves, finely chopped

1 lemon, juice and zest of

2 tablespoons Worcestershire sauce ( eyeball it)

1 (14 ounce) cans tomato sauce

Couscous

2 tablespoons butter

1 1/2 cups chicken stock

1/3 cup golden raisin ( recipe says "handful")

4 dried apricots, chopped

1 1/2 cups couscous

3 -4 tablespoons toasted pine nuts

1/4 cup fresh parsley leaves, chopped ( recipe says "handful")

1/4 cup fresh mint leaves, chopped ( recipe says "handful")

3 tablespoons chives, finely chopped
Directions
Preheat oven to 400 degrees F (if serving with pita bread).

Heat skillet with extra-virgin olive oil, add meat and brown.

Season the meat with salt and pepper, to taste, chili powder, cumin, coriander, cinnamon and paprika. Add the bay leaf, onions, bell pepper and garlic to the pan.

Cook until onions are soft, 8 minutes.

Add lemon juice and zest, Worcestershire sauce and tomato sauce. Stir and reduce heat to simmer (for about 10 minutes while you make the couscous).

To make couscous: Bring butter and stock to a boil in a separate pot with tight fitting lid. (This is a good time to put the pitas in the oven too).

Add dried fruit and couscous, stir then turn off heat and set lid in place. Let stand 5 minutes. Add nuts and herbs and toss with fork.

Pile chili in bowls, top with "sand" and serve with pita wedges for scooping.