Traditional English Cottage Pie With Cheese and Leek Topping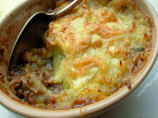 Photo by French Tart
Prep Time: 30 mins
Total Time: 1 hr
Servings: 4-6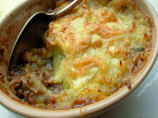 Photo by French Tart
About This Recipe
"Cottage pie, like its opposite lamb number, Shepherd's pie, was the ingenious idea of housewives many years ago, in order to create another warm and comforting meal usually from the Sunday Lunch left-overs! Cooked beef or lamb were diced or shredded and sometimes the vegetables were added to the meat mixture - such as peas or carrots. This recipe uses raw minced beef, but you could use minced cooked beef if you wish, I have added it as an alternative. The leeks were always added to the mashed potato topping when I was growing up - it was another way of utilising the leftovers! A bit like a Bubble and Squeak topping. I am not a lover of peas being added in my Cottage Pie, so I have suggested them as an option - I always prefer carrots as the vegetable to be added. Try to use mature Farmhouse Cheddar cheese for the topping - a little goes a long way, as it is so strong in flavour. The cheese is very luxurious, but takes this simple and comforting pie to a higher taste level, in my humble opinion! Serve bubbling hot straight from the oven with steamed cabbage, carrots or any seasonal vegetables and a jug of gravy."
Ingredients
Cottage Pie Filling

600 g lean ground beef or 600 g cooked beef, shredded

2 onions, peeled and diced

1 large carrots, peeled and finely diced or 1 large cooked carrot, diced

1 ounce butter or 1 ounce dripping

cooked peas (optional)

1 teaspoon dried herbs or 1 -2 tablespoon fresh mixed herbs, chopped

1 tablespoon flour

1 tablespoon tomato puree

1 tablespoon Worcestershire sauce

250 ml beef stock ( OR 250 ml red wine mixed with 2 teaspoons sugar) (optional)

salt

pepper

Cottage Pie Topping

1 kg potato, peeled and cut into small even sized pieces

2 large leeks, cleaned and finely shredded or 2 large cooked leeks, sliced into rings

2 ounces butter

2 -4 tablespoons milk

4 ounces mature farmhouse cheddar cheese, grated

salt

pepper
Directions
To make the pie filling:.

Fry the onions and carrots if using, in the butter or beef dripping until they are soft.

Add the minced/chopped beef and cook for about 10 to 20 minutes or until the onion and carrot have browned and the minced beef has taken on some colour and is firm. (It also depends if you are using cooked or raw minced beef.).

Season well with salt and pepper, then add the mixed herbs. Stir in the flour, and mix well.

Mix the tomato puree and Worcestershire sauce with the stock and add it to the meat mixture, bringing it all to simmering point. Simmer until the stock has reduced by aboout a third, add the peas if using and take off the heat. Set aside whilst you make the topping.

To make the topping:.

Boil the potatoes in slightly salted water then mash them well, adding half of the butter and all of the milk gradually. Season to taste.

If using fresh leeks, fry the leeks gently in the remaining butter, until soft and slightly coloured.

Stir the cooked leeks into the mashed potato mixture and give it all a good mix.

Assemble:.

Put the meat mixture into a large and deep well greased baking dish and spread the potato mixture on top; then sprinkle with the grated cheese. You can also use 4 - 6 smaller pie dishes if you wish.

Put into a pre-heated oven, 200C/400F/Gas Mark 6 for about 25 to 30 minutes until the topping is crusty, golden and bubbling.

Serve with an assortment of fresh seasonal vegetables and a jug of gravy.