Hereford House Steak Oscar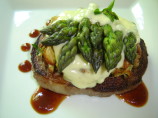 Photo by karenury
Prep Time: 10 mins
Total Time: 25 mins
Servings: 1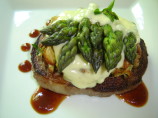 Photo by karenury
About This Recipe
"Kansas City was and still is considered a "Cow Town". We are blessed to call The Hereford House our hometown restaurant. Celebrating 50 years they finally shared their recipes in the local paper. If you can't make it to KC at least you can eat like you're here."
Ingredients
1 (8 ounce) filet of beef, wrapped in bacon

1/8 teaspoon salt

1/8 teaspoon pepper

2 ounces butter, divided

1 (2 ounce) crab cakes

5 asparagus spears

1 cup mashed potatoes

3 ounces bearnaise sauce

1 teaspoon parsley, chopped
Directions
Season both sides of the fillet with salt and pepper. Place on a hot grill and cook 4 minutes on one side. Turn steak over and cook additional 4 minutes.

In separate skillet, add 1 ounce of the butter and the crab cake and sear on one side. Turn over and sear the other side.

Cook crab cake until hot all the way through. Keep warm.

In separate skillet, add remaining butter and cook the asparagus. Cook until cooked through and hot. Turn heat down to keep warm.

Remove steak from grill and top with the crab cake. Pipe the mashed potatoes to the side of the fillet. Lay the asparagus against the fillet and potatoes. Pour the bearnaise sauce over the steak and crab cake.

Garnish with chopped parsley.