Vegetarian Shepherd's Pie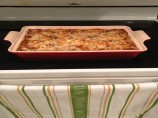 Photo by StasiaL193
Prep Time: 45 mins
Total Time: 1 hr 45 mins
Servings: 8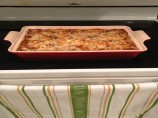 Photo by StasiaL193
About This Recipe
"A hearty and delicious meal that will please everyone at the table."
Ingredients
1/3 cup yves vegetarian ground beef

3/4 cup undrained canned corn

1 cup frozen peas

3 medium carrots, diced

3 medium cooking onions, diced

4 medium potatoes, cooked

2 medium sweet potatoes, cooked

1/4 cup all-purpose flour

2 tablespoons margarine or 2 tablespoons butter

1 tablespoon olive oil

2 cups vegetable stock

3 tablespoons ketchup

3 tablespoons soy sauce

1/2 tablespoon salt

1/2 tablespoon basil

1/2 tablespoon oregano

3 garlic cloves, diced
Directions
In order to make this recipe, you need to make a batch of mashed potatoes; here is a simple way that yields amazing results. After boiling (2 medium) sweet potatoes and (6 medium) potatoes for about 15 minutes, drain and mash.

Add some of your vegetable stock as needed and your (2 tbsp) margarine or butter.

Continue to mash according to your taste, until desired texture is achieved.

Preheat oven to 350 degrees Fahrenheit (175 degrees Celsius).

In a bowl, combine ketchup, salt, basil, oregano, soy sauce and the remainder of your vegetable stock.

Stir.

Sautee carrots and onions in olive oil for approximately 10 minutes on medium-high heat, or until desired tenderness.

Add your package of Yves Veggie Ground Round Original, corn (with liquid), peas, garlic and your ketchup, soy sauce, vegetable stock mixture.

Add flour to thicken the sauce, allow to simmer until desired consistency (approximately 5 to 10 minutes).

Transfer this mixture into a large pan (I use a small roasting pan, use your best judgement).

Spread the mashed sweet potato and potato over top using a rubber spatula.

Bake, uncovered for 45 - 60 minutes.

This recipe also freezes very nicely.