Two Bean Chili (Vegetarian)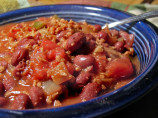 Photo by justcallmetoni
Prep Time: 40 mins
Total Time: 40 mins
Serves: 8, Yield: 1 cup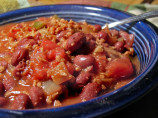 Photo by justcallmetoni
About This Recipe
"Yes, yet another vegetarian chili recipe. The beauty of this one is it is REALLY yummy, has a decent amount of protein, and only simmers 25-30 minutes! It is definitely a favorite in our house, especially with cornbread. From Best Kept Secrets of Healthy Cooking by Sandra Woodruff."
Ingredients
1 cup textured vegetable protein

7/8 cup vegetable broth

1 large onion, chopped

1 large green bell pepper, chopped

1 (14 1/2 ounce) cans tomatoes, crushed

1 (16 ounce) cans tomato sauce

1 (15 ounce) cans red kidney beans, drained

1 (15 ounce) cans pinto beans, drained

2 -3 tablespoons chili powder

1 teaspoon dried oregano

1/2 teaspoon ground cumin
Directions
1. Place the TVP and broth in a 3-quart pot and bring to a boil over high heat. Remove the pan from heat and let sit for 5 minutes, or until the broth has been absorbed.

2. Add all of the remaining ingredients to the TVP mixture and stir to mix. Place over high heat and bring to a boil. Reduce heat to low, cover, and simmer for 25 to 30 minutes or until the veggies are tender.

ENJOY!