Oh No! No Potatoes! Stew W/ Caraway Dumplings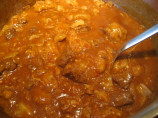 Photo by Susiecat too
Prep Time: 10 mins
Total Time: 1 hr 10 mins
Servings: 10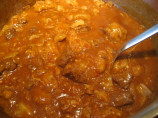 Photo by Susiecat too
About This Recipe
"I had the stew meat thawed. I had the onions cut. I had the seasonings out. Then I realized that the potatoes were rotten and it was too late to call my husband to have him pick up potatoes on the way home. So I scoured the fridge for inspiration. DH and the kids all told me I should make this again so I'm typing it up. It should be easy to halve for a smaller family."
Ingredients
2 lbs stewing beef ( I like chuck)

2 onions, cut in chunks

1 -2 tablespoon canola oil

1 tablespoon Kitchen Bouquet

2 garlic cloves, minced

1 small head cabbage, cored and cut in chunks

2 (14 1/2 ounce) cans diced tomatoes

4 cups beef stock, heated to boiling

1 -2 bay leaf

salt

Caraway Dumplings

1 1/2 cups whole wheat flour

1 1/2 cups white flour

4 teaspoons baking powder

1 dash salt

1/4 cup canola oil

2 -3 teaspoons caraway seeds

1 1/2 cups milk
Directions
In a large, wide pot, brown stew beef and onions in oil on medium-high heat.

Turn head down.Add Kitchen Bouquet, garlic, and cabbage. Cook, stirring, for 5-10 minutes.

Add tomatoes, beef stock, salt, and bay leaves. Simmer 15-20 minutes, stirring occasionally.

Put flour into a mixing bowl. Add baking powder and salt. Mix well.

Add oil to flour mix and stir in well, crumbling through your hands if necessary to achieve a mealy texture.

Stir in the caraway seed.

Stir in the milk to make a soft dough.

Drop by spoonfuls onto the stew. Simmer, uncovered, for about 12-15 minutes. Cover. Simmer another 15+ minutes until the dumplings are fully cooked.