Linsensuppe (German Lentil Soup With Frankfurter Slices)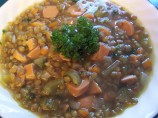 Photo by Debbie R.
Prep Time: 15 mins
Total Time: 1 hr 10 mins
Serves: 6, Yield: 6 Soup Servings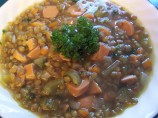 Photo by Debbie R.
About This Recipe
"This recipe is from *Stroganov to Strudel* (Great Traditional Cooking From Germany, Austria, Hungary & the Czech Republic). Per the intro, "Soups are a favourite in this area, served either as a main meal or a starter. Hearty soups range from creamy Czech soups w/light dumplings, to the famous fruit soups of Hungary & chunky soups of Germany, such as *Lentil Soup* containing sliced frankfurter." If your kids are not entirely opposed to veggie-based soups, then the sight of frankfurter slices may well tempt them to happily eat this healthy soup as a 1-dish meal. (Nearly all the time given is cook time, but I also allowed 15 min for ingredient prep). *Enjoy* !"
Ingredients
1 cup brown lentils

1 tablespoon vegetable oil

1 onion ( finely chopped)

1 leek ( finely chopped)

1 carrot ( finely diced)

2 celery ribs ( chopped)

4 ounces lean bacon

2 bay leaves

6 1/4 cups water

2 tablespoons fresh parsley ( chopped, plus extra to garnish)

8 ounces frankfurters ( sliced)

salt & freshly ground black pepper
Directions
Rinse lentils thoroughly under cold running water (brown lentils don't need to be soaked b4 cooking).

Heat oil in a lrg pan & gently fry onion for 5 min till soft. Add leek, carrot, celery, bacon & bay leaves.

Add lentils & water to the pan & slowly bring to a boil. Skim the surface & simmer (half-covered) for 45-50 min or till the lentils are soft.

Remove piece of bacon, cut into sml cubes (trimming off any excess fat) & return bacon cubes to the pot.

Add parsley + frankfurter slices & season w/salt & pepper to taste pref. Simmer gently for 2-3 min, remove bay leaves & serve garnished w/the extra parsley.

PERS NOTE: As I entered this recipe, I found myself wondering how the simmer time of 45-50 min might be adapted to crockpot use. If 1 among you is more practiced in this art, I'd appreciate that info. :-).