Barley and Sesame Chicken Stir-Fry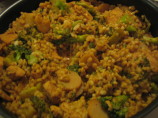 Photo by pattikay in L.A.
Prep Time: 15 mins
Total Time: 20 mins
Servings: 4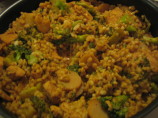 Photo by pattikay in L.A.
About This Recipe
"From: "Whole Grains Every Day, Every Way" by Lorna Sass. "Stir-fries are ideal for quick meals, especially when you have leftover cooked barley--or any other sturdy grain." "To make prep quicker still, purchase the chicken already sliced for stir-fry.""
Ingredients
For the sauce

78.07 ml dry sherry

44.37 ml Japanese soy sauce, plus more if needed ( shoyu or tamari)

29.58 ml seasoned rice vinegar ( can use 2 tbsp plain rice vinegar plus 1/2 tsp white sugar)

14.79 ml Dijon mustard ( whole-grain is nice)

14.79 ml fresh ginger, grated

2 large garlic cloves, minced

14.79 ml toasted sesame oil

4.92 ml molasses or 4.92 ml dark brown sugar

2.46 ml crushed red pepper flakes

1.23 ml ground star anise (optional) or 1.23 ml Chinese five spice powder (optional)

For the stir-fry

680.38 g boneless skinless chicken thighs or 680.38 g boneless skinless chicken breasts

1 bunch broccoli

14.79 ml peanut oil or 14.79 ml canola oil

1 (226.79 g) can water chestnuts, drained

946.36 ml cooked barley (can use a mix also) or 946.36 ml cooked short-grain brown rice (can use a mix also) or 946.36 ml cooked chinese black rice (can use a mix also) or 946.36 ml cooked colusari red rice ( can use a mix also)
Directions
First make the sauce:.

In a bowl, combine the sherry, soy sauce, vinegar, mustard, ginger, garlic, sesame oil, molasses and red pepper flakes.

Slice the chicken into thin strips along the grain and place them in a small bowl. Add 3 tablespoons of the sauce and toss the chicken to coat. Set aside.

Cut the broccoli florets from the stalks. Reserve the stalks for another purpose. Cut the florets into small pieces about 1 1/2 inches across the top.

Heat a large wok or skillet over high heat. Add the peanut oil and swirl to coat the surface. Add the broccoli and stir-fry for 30 seconds.

Stir in the chicken, water chestnuts, cooked barley, and remaining sauce. Cook uncovered, stirring frequently, until the chicken is cooked 3 to 4 minutes.

Stir in sesame seeds and scallion greens. Add more soy sauce, if needed.

Chenin Blanc is the recommended wine to drink with this dish.

Option:.

Vegetarian Brown Rice and Tofu Stir-Fry:.

Instead of chicken, use 1 pound Asian-style baked tofu, cut into cubes.

Cook for only 1 minute before adding the sesame seeds.