Pergo or Any Laminate Floor Cleaner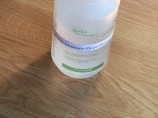 Photo by Rita~
Prep Time: 3 mins
Total Time: 5 mins
Yield: 1 cup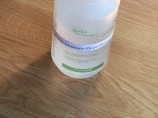 Photo by Rita~
About This Recipe
"An economical laminate floor cleaner spray that you can make for pennies... and it gets your floors just as clean as that expensive cleaner they sell in stores... if not cleaner! This formula has been keeping my floors so clean and does not give me a headache like so many other commercial cleaners, so I have decided to share this gem that was shared with me from a Pergo expert. This is the first "recipe" I've posted with the hope that many of you will be able to put it to good use!!!"
Ingredients
1/3 cup water

1/3 cup rubbing alcohol

1/3 cup white vinegar

3 drops liquid dishwashing soap

5 -10 drops lemon essential oils (optional)
Directions
Comibine all ingredients in a clean spray bottle.

Spray sparingly on laminate floors and mop up.

The rubbing alcohol helps speed up the drying process.