Quick and Easy Chicken Marsala With a Soft Creamy Polenta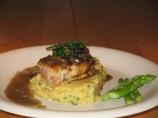 Photo by The Flying Chef
Prep Time: 15 mins
Total Time: 40 mins
Servings: 4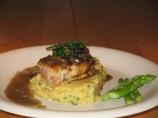 Photo by The Flying Chef
About This Recipe
"Last minute meal idea that is easy to do and tastes good."
Ingredients
4 chicken breasts

2 tablespoons olive oil

1 brown onion, chopped finely

250 -300 g button mushrooms, sliced finely

1/2 cup marsala

1 cup water

1 1/2 teaspoons chicken stock

1/4 teaspoon beef stock

1 1/2 teaspoons cornflour

1 1/2 tablespoons fresh chives, chopped

polenta ingredients

375 g quick-cooking polenta ( I buy one that is 2min cook time)

750 ml water

1 1/2 teaspoons chicken stock powder

120 g grated parmesan cheese

120 g mascarpone

60 g butter

2 tablespoons cream
Directions
Chicken Marsala.

Heat oil in a large frying pan add onion to pan and stir until soft, add the mushrooms and stir for a few minutes. At the same time in another frying pan be cooking the chicken this just has to be turned a couple of times during the cooking process and cooked until done.

Add Marsala wine, water and stock powder to mushrooms and bring to the boil then turn down the heat to medium. Stir a little water into the cornflour and to mixture to thicken slightly.

Serve chicken over soft polenta pour some sauce over the chicken and top with chives.

Soft Creamy Polenta.

Bring the water and the stock to the boil in a pan. Add the polenta slowly whisking all the time while adding. When all the polenta has been added turn down the heat and stir continuously with wooden spoon until mixture is thick.

Add the mascarpone, Parmesan and butter stir until cheese has melted. Add the cream and salt and pepper to taste serve immediately with chicken.

For a photo visit http://the-best-recipes.blogspot.com/.