Jäger Kohl (Hunter's Cabbage)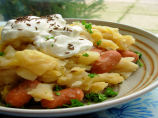 Photo by French Tart
Prep Time: 15 mins
Total Time: 1 hr 15 mins
Servings: 4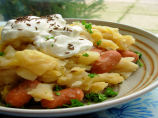 Photo by French Tart
About This Recipe
"I found this at Teri's Kitchen, a site about Pennsylvania Dutch cooking. It's become a favorite in our family. Since we don't eat pork, we substitute beef ingredients for the sausage and bacon. However, the pork version is more authentic. It is very hearty and filling."
Ingredients
1 lb kielbasa, cut into 1/2 inch slices

4 slices bacon, cut into 2 inch pieces

3 large potatoes, thickly sliced ( I use red potatoes)

1 small head of cabbage, cut into thin wedges ( or more, if desired)

2 tablespoons flour

salt & pepper

1 tablespoon cider vinegar (I use cider vinegar) or 1 tablespoon red wine vinegar ( I use cider vinegar)

4 tablespoons sour cream, to garnish

caraway seed, if desired to garnish (optional)
Directions
In a large skillet over medium heat, brown kielbasa and bacon. Add sliced potatoes and just enough water to make steam. Cook, covered, for 15 minutes.

Add cabbage and sprinkle with flour, salt, pepper, and vinegar. Stir to combine. Cover and cook 45 minutes, or until cabbage is tender, adding water as needed.

Serve with sour cream and caraway seeds, if desired.