Warm Lemon, Lime and Lovage Prawns With Pineau Des Charentes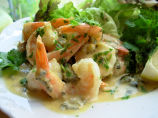 Photo by French Tart
Prep Time: 5 mins
Total Time: 10 mins
Servings: 2-4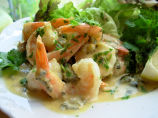 Photo by French Tart
About This Recipe
"A delectable starter or luncheon dish that I devised for the Auberge. King prawns, in their shells or with the tails still intact - pan fried in a warm dressing of lemon, lime and lovage with Pineau des Charentes and crème fraiche! Convinced? Here is the recipe! Serve with Mesclun or mixed salad leaves of your choice and lots of crusty bread for mopping up those juices! In the event you cannot get hold of Pineau des Charentes, use Port of Fino Sherry instead."
Ingredients
DRESSING

4 tablespoons fresh lovage, leaves finely chopped or 4 tablespoons celery tops

3 tablespoons creme fraiche or 3 tablespoons double cream

1/2 lime, juice and zest of, finely grated

1/2 lemon, juice and zest of, finely grated

1 teaspoon caster sugar or 1 teaspoon fine sugar

1 tablespoon olive oil

50 ml white pineau

1 teaspoon Dijon mustard

salt

pepper

Salad

mesclun or mixed salad green, of your choice

extra lovage ( to garnish)

extra limes (to garnish) or lemon ( to garnish)
Directions
To make the dressing:.

Put all the dressing ingredients together in a jam jar or a lidded salad dressing container and shake them well until the dressing has emulsified and has thickened.

Taste and adjust the seasoning. Put to one side whilst you cook the prawns and assemble the salad.

In a large roomy frying pan and over a medium heat - cook the prawns in the white Pineau, moving them around all the time until they are pink and cooked - about 3-6 minutes depending on the size of the prawns.

On a large plate, arrange the salad leaves and just before serving the prawns, add the dressing to the pan with the prawns, stirring around well to give them all a good coating.

Arrange the prawns on the plate next to the salad leaves, drizzling the warm dressing over the prawns and the salad leaves.

Scatter finely chopped lovage leaves over the top and garnish with a wedge of lime or lemon, or both!

Serve 6 prawns per person for a starter and between 8 and 12 per person for a light luncheon dish, with crusty bread and butter.

N.B. Make sure you have finger bowls and wipes available, or just lick your fingers!

Sublime!