Ma's Best Cheese Cornbread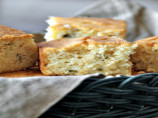 Photo by Aaliyah's&Aaron'sMum
Prep Time: 10 mins
Total Time: 50 mins
Servings: 16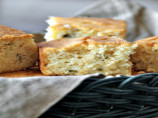 Photo by Aaliyah's&Aaron'sMum
About This Recipe
"This is a rich moist cornbread and served with greens or peas it is a full meal in itself. This cornbread and a glass of milk or buttermilk will fill the hungriest boy or man."
Ingredients
3 cups cornmeal

1 cup whole wheat flour ( white optional)

2 tablespoons baking powder

2 teaspoons salt

4 eggs

2 1/4 cups milk

1 1/2 cups shredded cheddar cheese

1 cup oil ( coconut is what I use)

1 (14 ounce) cans cream-style corn

1 onion, finely minced

1 (2 ounce) cans green chilies (optional)

1/4 cup shredded cheddar cheese (optional)
Directions
Spray a 9x13-inch pan and set aside.

Mix all your dry ingredients and set aside, the first 4 listed here.

Beat your eggs in a medium to large bowl and then add the rest of your moist items, the rest.

Gently stir the dry into the moist. It will be a bit lumpy or can. Do not over mix.

Pour it into your sprayed 9x13-inch pan.

Bake at 350°F for 40-50 minutes or until a pick comes out clean. Remember it is a moist bread.

If it starts to brown too early cover lay foil over the top for the last 5-10 minutes.