Norwegian Meatballs in Brown Gravy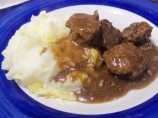 Photo by AZPARZYCH
Prep Time: 30 mins
Total Time: 24 hrs 30 mins
Servings: 4-6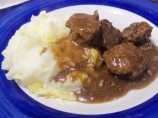 Photo by AZPARZYCH
About This Recipe
"Another recipe I tried in Cuisine At Home Magazine and it was a real hit in my family...Easy and a great comfort food."
Ingredients
For the Meatballs

Whisk Together

3/4 cup onion, grated

1/4 cup half-and-half

2 tablespoons cornstarch

1 egg

1 1/2 teaspoons kosher salt

1/4 teaspoon ground nutmeg

1/4 teaspoon ground allspice

1/4 teaspoon ground black pepper

Add and Shape

Heat

1 lb meatloaf mix ( or equal parts of gound beef, pork, and veal)

2 tablespoons unsalted butter

1 tablespoon olive oil

Prepare Brown Gravy

4 cups beef broth, divided

1 tablespoon beef base

3 tablespoons all-purpose flour

1 teaspoon Kitchen Bouquet

salt and pepper
Directions
Preheat oven to 400 degrees; line a baking sheet with parchment paper.

Whisk onion, half and half, cornstarch, egg, salt, and spices together in large bowl.

Add ground meats, blend to incorporatae, then scoop into thirty 1 1/2" meatballs, and place on the prepared baking sheet.

Heat butter and oil in a nonstick skillet over medium heat.

Roll meatballs between your palms, then brown in the butter mixture (in batches), about 2 minutes per side; do not cook through. Carefully transfer meatballs to a dutch oven, pour off fat from skillet, and return it to the burner over medium heat.

Prepare brown gravy:.

Deglaze the skillet the meatballs were sauteed in with 3 1/2 cups broth, scraping brown bits from the bottom of the pan. Stir in beef base and bring to a boil over medium heat.

Meanwhile, shisk flour and kitchen bouquet ina cut with the remaining 1/2 cup broth. Add this mixture to the simmering broth, stirring constantly.

Cook 5 minutes, skimming if necessary, then season with salt and pepper. Pour gravy over meatballs, cover pot, and braise 35-40 minutes in oven, or until meatballs are cooked through. Serve over mashed potoes or buttered noodles.