Quick and Easy Seasoned Black Beans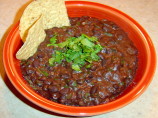 Photo by Sue Lau
Prep Time: 10 mins
Total Time: 30 mins
Servings: 6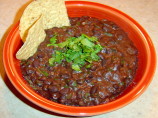 Photo by Sue Lau
About This Recipe
"Perfectly quick and easy. Another option is to mash/puree and chill for an extremely tasty bean dip."
Ingredients
2 (15 ounce) cans black beans

2 tablespoons chopped garlic

1 medium onion, chopped fine

2 jalapeno chiles, chopped fine ( seeds removed if desired)

1 teaspoon Mexican oregano

2 teaspoons ground cumin

2 teaspoons extra virgin olive oil

1/2 cup chopped fresh cilantro

2 tablespoons fresh lime juice

salt and black pepper ( to taste)
Directions
In sauté pan heat garlic in oil on medium heat.

Add onion and jalapeño as oil begins to warm.

Add oregano and cumin and sauté, stirring frequently, until vegetables are tender, adding a few drops of water if they begin to stick.

Add contents of cans of black beans and bring to a boil.

Reduce heat and simmer for 20-25 minutes, to allow flavors to blend.

Add chopped cilantro and lime juice and stir.

Serve.