Pinchos (Spanish Kebabs/Tapas - Pork, Lamb, Prawns or Chicken)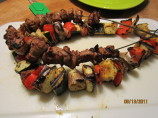 Photo by Queen Dana
Prep Time: 10 mins
Total Time: 20 mins
Yield: 8 tapas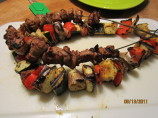 Photo by Queen Dana
About This Recipe
"Enjoyed at bars all over Spain, pinchos are wonderful kebabs that taste equally good made with pork, chicken, prawns or lamb. At some bars, the seasoning is as simple as garlic and hot, sweet paprika. Here is a favorite marinade recipe for Pinchos Morunos. Recipe courtesy Anya von Bremzen, The Spanish Table. Time does not include 6-8 hours marination."
Ingredients
2 tablespoons chopped onions

4 large garlic cloves, chopped

1 tablespoon spanish sweet smoked paprika

1/2 teaspoon spanish hot smoked paprika or 1/4 teaspoon cayenne

coarse salt ( kosher or sea)

1 teaspoon dried oregano

1 teaspoon black peppercorns

2 teaspoons dried thyme

1 teaspoon ground cumin

1/8 teaspoon ground cinnamon

1 bay leaf, crumbled

2 tablespoons white wine vinegar ( good quality)

2 tablespoons dry white wine (optional)

3 tablespoons olive oil, plus more for brushing the kebabs

1 1/2 lbs pork shoulder or 1 1/2 lbs pork tenderloin or 1 1/2 lbs leg of lamb or 1 1/2 lbs chicken breasts or 1 1/2 lbs prawns
Directions
Place the onion, garlic, sweet and hot paprikas, 2 tsp of the salt, the oregano, peppercorns, thyme, cumin, cinnamon, bay leaf, vinegar, wine (if using) and olive oil in a mini food processor and process to a paste.

Place the pork in a bowl and rub a little salt on it. Scrape the marinade into the bowl with the meat and toss to combine thoroughly.

Cover the bowl and refrigerate the pork for 4-6 hours, tossing a few times. Let the meat come to room temperature before grilling.

Light the grill and preheat it to medium-high or preheat a large ridged grill pan to medium-high over medium heat.

When ready to cook, thread the meat onto the skewers and brush it with a little olive oil.

Cook the meat, brushing with olive oil and turning once, until it is just cooked through, 5-7 minutes. (If you are cooking lamb and would like it medium-rare, don't cook it quite so long). Serve the kebabs at once.