Muesli in a Slow Cooker / Crock Pot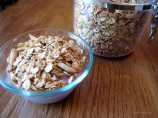 Photo by loof
Prep Time: 10 mins
Total Time: 1 hr 10 mins
Servings: 10-12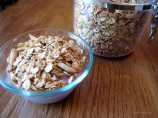 Photo by loof
About This Recipe
"Crunchy muesli that the whole family will adore. Beats any store bought Muesli hands down and much cheaper too. PS: If you enjoy 'Fast Food' and lots of sweet things, please don't try this recipe. It is quite possibly a recipe that is not designed to appeal to an American palate. It is more of a low fat/low sugar version, a breakfast that will keep you going for hours without the hit of a low blood sugar levels within a short period of time. I find that when I have this for breakfast, I'm not hungry again until 1 - 2 pm. Enjoy!!"
Ingredients
5 cups rolled oats

1 cup baking natural bran

1 cup wheat germ

1/2 cup coconut ( desiccated, thread or slices)

1/2 cup raw sugar ( white will not work)

4 tablespoons oil ( I use olive)

2 teaspoons vanilla

Extras

Dried fruit
Directions
Pre-heat the crock pot on high for 20 minutes.

Combine grains, seeds, nuts, sugar, oil and vanilla in the crock-pot.

Add the oil and vanilla and stir thoroughly.

Cover with lid and cook on high for about 2 hours stirring once or twice while cooking.

Remove lid after cooking is finished, stir thoroughly and allow to cool completely before stirring in the dried fruit and then storing in an air-tight container. The Tupperware cereal container is perfect.

Enjoy!