Chicken Cutlets With Artichokes, Tomato and Mozzarella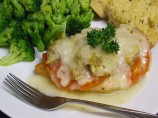 Photo by VickyJ
Prep Time: 20 mins
Total Time: 30 mins
Servings: 2-4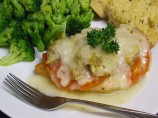 Photo by VickyJ
About This Recipe
"I love this recipe. I think it is the simple little lemon sauce that makes it. From Gourmet."
Ingredients
2 boneless skinless chicken breast halves, halved horizontally and flattened to form 4 cutlets

salt and pepper

1/4 cup flour, seasoned with salt and pepper

2 tablespoons unsalted butter, divided

1 tablespoon olive oil

1 small garlic clove, minced

2 tablespoons dry white wine or 2 tablespoons dry vermouth

2 tablespoons fresh lemon juice

4 slices of ripe fresh tomatoes, sliced 1/4-inch-thick

1/2 cup sliced drained marinated artichoke hearts

4 slices fresh mozzarella cheese, sliced 1/4-inch-thick

1 tablespoon minced fresh parsley
Directions
Sprinkle the chicken cutlets with salt and pepper to taste and dredge them in the flour, coating them thoroughly and shaking off the excess.

In a heavy skillet heat 1 tablespoon of the butter and the oil over medium high heat, and in the fat sauté the cutlets in 2 batches for 1 minute on each side or until they are just cooked through. Transfer them to a baking dish and tent with foil to keep warm.

Preheat the oven broiler.

Remove the skillet from the heat, add the garlic, and cook stirring over medium low heat for a few moments. Add the wine and the lemon juice and simmer the mixture until it is reduced by half.

Remove the skillet from the heat, add the remaining tablespoon butter, and swirl the skillet until the butter is incorporated in the sauce.

Pour the sauce over the cutlets, and top the cutlets with the tomato, the artichoke hearts, and the mozzarella.

Broil the cutlets about 3 inches from the heat until the mozzarella is melted and begins to bubble.

Sprinkle with parsley and serve.