Hearts of Palm Strudel With Remoulade Sauce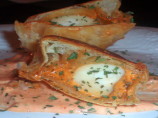 Photo by Kiwiwife
Prep Time: 15 mins
Total Time: 27 mins
Servings: 4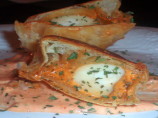 Photo by Kiwiwife
About This Recipe
"An Emeril Lagasse recipe. Fancy! I LOVE hearts of palm!"
Ingredients
Remoulade

1 cup mayonnaise

2 tablespoons creole mustard

2 tablespoons ketchup

1/2 cup green onion, finely chopped

2 tablespoons parsley, finely chopped

2 tablespoons celery, finely chopped

1 1/2 teaspoons garlic, minced

1 teaspoon paprika

1 teaspoon Crystal hot sauce

salt and pepper

Strudel

4 small hearts of palm, whole and blanched

2 tablespoons butter, melted

4 sheets phyllo dough

Garnish

2 tablespoons parsley, chopped

Emeril's Original Essence, to taste
Directions
Preheat the oven 400 degrees.

For the remoulade:.

Combine the mayonnaise with the Creole mustard, ketchup, green onions, parsley, celery, garlic, paprika, and Crystal hot sauce. Mix thoroughly. Season with salt and pepper.

For the strudel:.

Toss the Hearts of Palm with 1/2 cup of the remoulade. Set aside.

Stack the filo sheets on top of one another and divide down the middle, leaving 8 sheets. Working one sheet at a time, brush the sheets with the melted butter.

Roll each Heart of Palm with two sheets of filo dough. Place the Heart of Palm at the base of the filo sheets. Fold in the ends and roll the Heart of Palm all the way to the end. (Just like an egg roll). Place the seam side down on the sheet pan.

Bake for 10 to 12 minutes or until golden. Using a serrated knife, slice the strudel on the bias.

Spoon a small pool of the remoulade in the center of the plate.

Place the strudels, standing upright in the center of the sauce.

Garnish with parsley and Essence.