Kittencal's Fluffiest Scrambled Eggs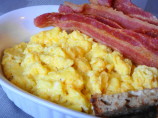 Photo by Lori Mama
Prep Time: 5 mins
Total Time: 5 mins
Servings: 2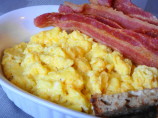 Photo by Lori Mama
About This Recipe
"Once you make these eggs you will *never* go back to your old way again, this is the way the higher end restaurants prepare their eggs ----for six eggs you may increase the milk by 1 tablespoon, do not add in more than 1/4 teaspoon baking powder --- if you are not afraid of some extra calories for 4 eggs use 2 tablespoons whipping cream in place of low-fat milk :)"
Ingredients
2 teaspoons butter ( or to taste, can omit and use vegetable spray, the butter is better)

4 large eggs

2 tablespoons milk ( low fat milk is okay to use)

1/8 teaspoon baking powder ( don't be shy to add in even 1/4 teaspoon)

1/4-1/2 teaspoon salt ( or to taste)

fresh coarse ground black pepper

1/2 cup grated low-fat cheddar cheese (optional)
Directions
In a bowl whisk the eggs vigorously with milk, baking powder, salt and black pepper until very well combined; let stand at room temperature for 5-7 minutes.

Heat butter until sizzling over medium-high heat in a large skillet (or spray the skillet with vegetable spray).

Whisk eggs again briefly then mix in the cheese (if using).

Pour into the hot skillet, stirring constantly with a small heat-proof spatula until they have reached desired consistency (DO not overcook the eggs, they will cook more when removed to a plate!).