Deviled Eggs and the Kitchen Sink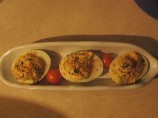 Photo by Caryn Dalton
Prep Time: 15 mins
Total Time: 15 mins
Serves: 12, Yield: 2 eggs per person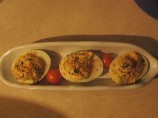 Photo by Caryn Dalton
About This Recipe
"I just love my deviled eggs. When people eat them they are always trying to pinpoint the flavor..and with an ingredient list like this one it's easy to keep em' guessing! The filling makes more than is needed so have fun eating the leftovers! Usually, though I make this with my potato Salad and just add the leftover filling to the potato salad...yummy! Also, since the potato salad uses common ingredients with the deviled eggs the small amounts of ingredients needed for the deviled eggs are not a problem."
Ingredients
12 eggs, boiled and divided

2 tablespoons very finely chopped sweet pickles

2 tablespoons finely chopped water chestnuts

1 1/2 tablespoons very finely chopped celery

1 green olives ( use only if you can grind it up finely)

1 tablespoon very finely chopped sweet onion

1/4 cup mayonnaise

1/8 cup Dijon mustard

1 tablespoon Wishbone Deluxe french salad dressing ( the orange kind)

1 1/2 tablespoons honey mustard dressing

1/8 cup Miracle Whip

1/8 teaspoon sea salt or 1/2 teaspoon lemon pepper seasoning

1/8 teaspoon garlic powder

1/8 teaspoon turmeric ( to garnish)

1/2 teaspoon parsley flakes ( to garnish)

optional
Directions
To make perfect eggs for deviled eggs, put all eggs in a large pot that has a lid. Cover eggs to one inch above eggs with water. Bring to boil then turn heat off but leave pot on burner for 15 minutes. Set your timer-this step is important for eggs that don't tear when you peel them. While waiting, prepare a large bowl filled 3/4 way with ice and water. When eggs have completed their 15 minutes set, rinse with cool water and place immediately in ice bath until completely cooled. Tap on large end and gently peel and half the long way and place on platter or deviled egg dish. Put yolks in food processor.

To small bowl, add very finely chopped sweet onion, celery and water chestnuts. These ingredients are important because they add some texture. I wouldn't ever leave them out as the texture is what most people comment on.

Add all the rest of the ingredients to the egg yolks in the food processor EXCEPT CHOPPED PICKLE, WATER CHESTNUTS AND CELERY) and pulse until well combined, scraping down sides if necessary. Add mixed ingredients to the chopped veggies and mix with a scraper or spoon. Spoon into egg whites. Sprinkle with turmeric and parsley flakes.

I actually like to serve these immediately because I think some of the flavor is masked by chilling the eggs -- but my husband likes them cold. What do you think?