Clay-Pot Honey Lemon Chicken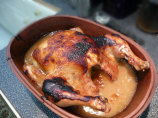 Photo by Mikekey
Prep Time: 15 mins
Total Time: 1 hr 50 mins
Servings: 4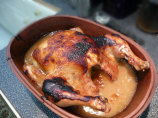 Photo by Mikekey
About This Recipe
"My first recipe post:) This is an Emeril find - it is to die for! I have made the sauce alone for use with grilled chicken as well...not quite as good but still yummy!"
Ingredients
1 (3 1/2 lb) broiler-fryer chickens

1/4 cup fresh lemon juice, plus

2 tablespoons fresh lemon juice ( reserve lemon shell)

1 3/4 teaspoons salt

1/2 teaspoon fresh ground black pepper

1 tablespoon melted butter, plus

4 tablespoons melted butter, softened at room temperature

2/3 cup honey

1 1/2 tablespoons soy sauce

4 tablespoons all-purpose flour
Directions
Prepare a clay roaster by soaking in cold water for 15 minutes.

Wash the chicken well inside and out under cool running water. Pat dry with paper towels. Rub chicken all over with 2 tablespoons of the lemon juice and season evenly on all sides with the salt and pepper. Place the reserved lemon shell inside the chicken cavity. Place the chicken inside the prepared clay roaster and brush with the melted butter. Cover the roaster and transfer to a cold oven. Set the oven temperature to 400 degrees F and cook for 45 minutes.

Combine the remaining 1/4 cup of lemon juice, honey, and soy sauce in a small saucepan and cook over medium heat until heated through. In a small bowl, make a paste from the remaining 4 tablespoons of butter and the flour. Whisk the butter-flour mixture into the melted honey-lemon-butter mixture. Continue to cook until the sauce has thickened slightly. Remove the clay cooker from the oven and pour the honey-butter mixture all over the chicken, making sure to evenly cover the breast and any exposed areas. Cover the roaster and return the chicken to the oven for 45 minutes, or until it is cooked through and very tender. Transfer the chicken to a platter or carving board, cut into pieces and serve immediately. Transfer the sauce to a gravy boat for serving, or spoon some of the sauce over each piece of chicken.

I serve this with roasted potatoes or rice.